WHERE TO BUY HIBISCUS TEA: INTRO
Hibiscus Tea is a healthy herbal tea that is currently gaining popularity in the United States. I have received several emails recently asking me where to buy hibiscus tea. Fortunately, hibiscus is fairly common and there are several brands selling loose hibiscus tea and hibiscus tea bags. I include the top brands for these two categories in my list of Where to Buy Hibiscus Tea below.
If you are unfamiliar with the power of hibiscus, I suggest reading my related post that details the main Reasons for Drinking Hibiscus Tea.
Unbiased Info on Purchasing Hibiscus
First, as an Amazon Associate, I earn from qualifying purchases.
This post contains my recommendations and suggestions on where to buy hibiscus tea. It is part of my series of posts that have all been created to help Herbal Tea Time readers purchase quality ingredients and utilize the best tools to make the most delicious herbal tea. All of these guides are solely comprised of my personal knowledge and beliefs. The information is unbiased and independent. I make earning your trust a primary focus, and then I transition to maintaining that trust. If you have any questions regarding the independent and unbiased info included on this HTH community site, please send me a message or post a comment at the bottom of this post.
WHERE TO BUY HIBISCUS TEA: GUIDE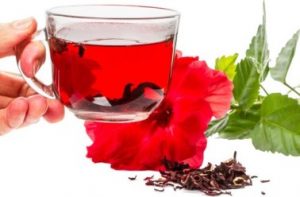 Please note: This post contains affiliate links. An affiliate link means that we may earn advertising/referral fees if you make a purchase through our links.
Hibiscus tea is becoming very popular, and there are many different brands and places to buy this wonderful herbal tea. The sheer number of options can make it difficult to choose where to buy hibiscus tea. Fortunately, I have spent years sampling various brands, and I have discovered the top hibiscus tea vendors. I have included the highest quality brands on this list in addition to details on where to buy hibiscus tea below.
Where to Buy Hibiscus Tea
Herbal tea has continued to follow a modest growth trend, and there are usually several marketplaces (stores and websites) selling each different type of tea. Hibiscus tea falls into this category, so there are many choices of where to buy hibiscus tea . I purchase my herbal tea online for several reasons, and I suggest that you do the same.
WHERE TO BUY HIBISCUS TEA: TOP LIST
Here is the list of the Top Hibiscus Tea Brands that can all be used to make an excellent cup of herbal tea. I have divided this list into 3 distinct categories, and I've provided the top brand for each one. I've created an overview before we get started.
Loose Hibiscus Tea

– Frontier Natural Products

Hibiscus Tea Blends

– Wild Foods Company, Wild Tea #6
Hibiscus Tea Bags – Davidson's Tea Bags
Frontier Loose Hibiscus Tea
(Commissions Earned)
Loose herbal teas are comprised of the natural plant ingredients in leaf, flower, or root form. They have been washed, dried, and placed into large packages. Many loose teas have also been cut and sifted to remove dirt and other debris. I personally use loose tea over 90% of the time. It is the most fresh way to consume herbal tea, other than picking the herbs yourself.
Frontier Natural Products is a well-known seller of loose herbal teas. Frontier is unique because it is a member owned co-op. I really enjoy their hibiscus tea, and it is currently my favorite. It contains 1 lb of loose hibiscus flowers that have been cut and sifted. Frontier hibiscus tea is extremely reasonably priced. I have pointed many of my close friends towards Frontier, and they have never looked back. You should definitely consider trying it!
Hibiscus Tea Blends
I have recently been going through an herbal tea blends phase.  These blends contain multiple ingredients including other herbs, fruit, and spices.  The ingredients are combined to create a unique flavor profile.
(Commissions Earned)
Wild Foods Company is a fairly new brand that has focused on selling products in the herbal tea blends niche. They assign each blend a number and simple name to make them easier to identify. This hibiscus tea blend has been assigned Wild Tea #6, and the name is Curr Berr (named from ingredients). This blend has one of my favorite flavor profiles. It is smooth, fresh, and has a wonderful aroma. It is sold in two different size options, 4 oz and 8 oz. I always purchase the 8 oz option because it is a much better deal. The final reason why I like this brand is because it offers a 100% satisfaction guarantee.
Hibiscus Tea Bags
(Commissions Earned)
Tea bags contain small amounts of the desired herb or plant. Tea bags are usually not as fresh as loose tea, but they are a convenient and simple way to make herbal tea.
Importance of Buying the Best Hibiscus Tea
As I've stated many times on this website, it is very important to purchase the highest quality ingredients to make the best herbal tea. The same is true for hibiscus tea. This guide has explained where to buy hibiscus, and now you will need to choose a great brand that fits your personal needs. All of the brands that I mentioned above currently offer fresh and delicious hibiscus that you can use when you follow my Simple Hibiscus Tea Recipe. If you have any questions regarding other brands, please leave a comment at the bottom of this page.
WHERE TO BUY HIBISCUS TEA: CONCLUSION
I hope that you have discovered Where to Buy Hibiscus Tea to make the best cup of tea. There is a big difference between the quality of different brands. All of the products listed on this page are a great way to start off your next hibiscus tea session. If you have any other questions regarding where to buy hibiscus tea, please send me a message or post a comment at the bottom of this page. I personally enjoy communicating with the readers of this Herbal Tea Time Community.
Prior to Buying Hibiscus Tea
I always suggest communicating with a healthcare professional prior to consuming any herbal tea. Hibiscus tea is considered safe by many medical experts, but it has the potential to interact with prescription medications or other medical conditions. I would be particularly cautious about consuming hibiscus at the same time as blood pressure prescriptions. Your doctor has the ability to speak with you about the possible risks pertaining to your personal health profile, so it is a good idea to use their knowledge. It is important to familiarize yourself with the potential side effects of hibiscus tea.
Where to Buy Hibiscus Tea: Comments
Are you familiar with other options of where to buy hibiscus tea? What brands do you prefer? Please share your knowledge with the HTH readers and help this site continue to grow.
HerbalTeaHour.com is an herbal tea community that truly values transparency and disclosures. We want to be very clear about one thing. In addition to being herbal tea enthusiasts, we do participate in the Amazon Affiliate program. As an Amazon Associate we earn from qualifying purchases.