STAR ANISE TEA: INTRO
Star Anise Tea is a flavorful herbal tea that can be used to improve physical health and mental clarity. It is made with Chinese Star Anise, the fruit obtained from an evergreen tree (Illicium verum) that is found in China and Vietnam. It is named after its star-shaped appearance. Star Anise has a similar flavor profile to Anise Seed Tea and licorice. Learn more about this kind of Anise Tea on this detailed post.
You can learn more about this tea and its close relative in my Anise Tea Ultimate Guide.
Star Anise Warning
First, as an Amazon Associate, I earn from qualifying purchases.
I always suggest speaking with a healthcare professional prior to consuming any form of herbal tea. This kind of Anise Tea is generally regarded as safe to consume, but it is important to buy from a reputable source. I personally avoid buying star anise from sketchy markets because Japanese star anise (Illicium anisatum) is a similar tree that is toxic. I list a few great options and include links later in this post.
STAR ANISE TEA: GUIDE
Please note: This post contains affiliate links. An affiliate link means that we may earn advertising/referral fees if you make a purchase through our links.
Star Anise has a pleasant aroma and it is used in oral hygiene products (toothpaste, mouthwash, etc.). As stated above, it has a flavor profile similar to Anise seeds, but they are unrelated. Star anise is actually used as a cheaper alternative to anise seeds, and both can be used to make excellent herbal tea.
Star Anise Tea Benefits
A majority of the total star anise crop (~90%) is used to extract shikimic acid. Shikimic acid is a chemical that is used in the creation of Tamiflu. This kind of Anise Tea contains anethole, which is a compound also found in the unrelated Aniseed Tea.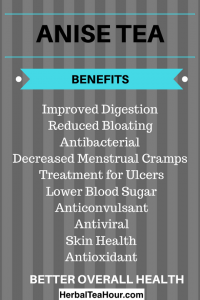 This is image contains a list of the main health benefits associated with consuming this kind of Anise Tea. If you would like to read more details, check out my related post Anise Tea Benefits.
The Best Star Anise Tea
There are several places to purchase this kind of Anise Tea, but I always suggest purchasing online.  There are several reasons that I chose to buy online including convenience, shipping time, and price.  Below are a couple options for this kind of Anise Tea that can be found online.  
Loose Star Anise Tea (4 oz)
(Commissions Earned)
For those of you that are experienced in making herbal tea, I suggest purchasing Star Anise Fruits in natural form. You can then crush it down in a mortar bowl to make tea.
Badia Star Anise Tea Bags (20 total)
(Commissions Earned)
I always enjoy Badia's offering. This is a simple way to make a cup of this kind of anise tea, because these are tea bags. This is a fairly large box that should last a long time.
Badia Star Anise Tea Bags (30 total)
(Commissions Earned)
This is a smaller version of the tea bags that I listed above. If you are new to herbal tea or unsure about this kind of Anise Tea, this is a great option. These bags are cheap and will still last you a while.
Star Anise Tea Recipe
As I stated above, I always suggest purchasing the Star Anise fruits instead of tea bags. This recipe uses Star Anise Fruits (not tea bags). I also suggest using a teapot with a built in infuser to avoid the necessity of straining at the end.
Ingredients (2 Servings)
Star Anise (8 fruits)
3 Cups of Water
Cinnamon Sticks – 3 Inches
Honey – 2 Tablespoons
Lemon Juice – 2 Teaspoons
Sugar to Taste (~.5 – 1 Teaspoon)
Directions
Pour Water (3 Cups) into desired tea kettle / teapot and bring to a boil. While waiting for water to boil, prepare Star Anise (8) by crushing in mortar bowl.
Reduce heat and add crushed star anise, cinnamon sticks, honey, and lemon juice to the teapot (add infuser section if available). Lightly stir.
Simmer on low heat for ~ 5 minutes.
Separate ingredients from tea by 1. Removing infuser or 2. Pouring through a strainer. Pour the tea into your desired teacups.
Add sugar to taste (optional) and stir. Wait a couple minutes for tea to cool a bit. Now your Anise Tea is ready to enjoy!
If you would like to see more recipes, check out my Star Anise Tea Recipe post.
CONCLUSION
I hope that this post has helped you discover more about this kind of Anise Tea. I personally alternate between consuming this tea and Anise Seed Tea since both have similar flavor profiles and similar health benefits.
Comments
Do you have any questions regarding this kind of Anise Tea? Please share with the rest of the HTH community by posting in the Comments section below.
HerbalTeaHour.com is an herbal tea community that truly values transparency and disclosures. We want to be very clear about one thing. In addition to being herbal tea enthusiasts, we do participate in the Amazon Affiliate program. As an Amazon Associate we earn from qualifying purchases.