SPEARMINT TEA: INTRO
Spearmint tea is a popular form of mint tea that is made with the leaves of the spearmint plant, Mentha spicata.  The other popular form of mint tea is peppermint tea, which is derived from the leaves of the peppermint plant.  Both of these herbal teas have been absolutely BOOMING in popularity in the last several months – likely due to their ease of use and, above all, exceptional taste!
This herbal tea is famous for its unique taste and powerfully pleasant aroma.  This is yet another herbal tea that has been consumed since ancient times, and it has experienced a recent surge in popularity as people discover the benefits of this tasty herbal tea.  Learn all about Spearmint Tea on this Ultimate Guide!
SPEARMINT TEA: GUIDE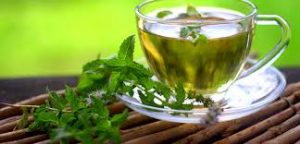 Please note: This post contains affiliate links. An affiliate link means that we may earn advertising/referral fees if you make a purchase through our links.
Before Consuming Spearmint Tea

I highly recommend speaking with a healthcare professional prior to consuming any forms of herbal tea including Spearmint Tea.  Although this form of herbal tea is generally regarded as safe (especially when consumed in moderate amounts), it may interact with certain prescription medications.  Speaking with your doctor can help avoid potential risks, however rare they may be.
Many of you are already aware of the unique flavor of spearmint, even if you haven't consumed Spearmint Tea. The smell of spearmint is powerful, but masking bad breath isn't the only benefit of this wonderful tea. Learn more about this herbal Tea on this Ultimate Guide.
Spearmint Plant Info
Please note: As an Amazon Associate, I earn from qualifying purchases.
Spearmint tea is an herbal tea derived from the leaves of the spearmint plant, also known as the garden mint. The scientific name is Mentha spicata, and it is a perennial species of mint. Spearmint is found all over the world, but it is native to Europe and Asia. There are ~ 15 other species of mint including the close relative, peppermint. Peppermint is actually a hybrid of spearmint and watermint.
One unique aspect of mint plants is their trademark square stem. The spearmint is actually named after the appearance of the leaves, specifically the pointed shape.
Spearmint Tea History/General Facts

As stated above, the spearmint plant is native Europe and Asia. In ancient times, it was cultivated extensively in the Mediterranean region. This popular herb was very valuable and often used in trade. Many cultures regarded it as a hospitality herb, and consuming this herbal Tea was believed to increase knowledge. Colonization and enhanced trade routes helped spread the plant throughout the ancient world. This led to improved cultivation techniques and better tea recipes.
Ancient Greeks commonly consumed spearmint in tea form, and they perceived it as an aphrodisiac. The Romans also regularly consumed this herbal tea before meals to cleanse the palate and increase appetite. Pliny the Elder, a Roman natural philosopher, suggested the use of spearmint to improve digestion and benefit overall health and well-being. The Jewish Pharisees would often use spearmint in tithing, and it was commonly used as an alternative currency in local transactions.
Renowned English physician and herbalist Nicholas Culpeper wrote in his famous 1653 book, The Complete Herbal, that spearmint is "comfortable for the head and memory" and this herbal Tea treats sore mouths.  It can also be gargled to treat sore throats.  This is kind of what people still do today, though largely in the form of spearmint flavored mouth wash or antiseptic rinse!
The useful guide also stated that spearmint can be used to "wash children's heads" when they are dirty or have wounds/sores.  He was also a proponent of combining and heating spearmint with rose leaves to help relax.
Herbal mint teas have repeatedly become popular alternatives to standard teas during times of armed conflict or economic hardship.  This is a really important piece of the histories of many different societies, including that of the United States!
During the increased tea prices that existed in the lead up to the Revolutionary War, the Americans began consuming alternative herbal teas including peppermint and Spearmint Tea.  Almost 100 years later, the American Civil War once again made standard imported teas prohibitively expensive.  Spearmint tea helped fill the void and keep soldiers fresh and minty.  In this way, when you are drinking a refreshing cup of spearmint tea, you are re-connecting with your colonial and societal roots (if you are American, of course)!
Recently, this herbal Tea has become trendy along with other spearmint beverages.  Alcoholic drinks that utilize spearmint leaves include juleps, mojitos, and Old Cubans. These types of beverages sell with increasing frequency as the months turn warmer and warmer, though I have to tell you, they aren't too bad in the winter either!
Spearmint Tea Benefits
Spearmint Tea is much more than an aid for fresh breath; it has several powerful benefits!  The aroma is definitely a huge benefit, and it is the primary reason that spearmint is often added to toothpastes, soaps, shampoos, and gum.  Some people even buy "loose leaf" spearmint and sprinkle it around the house as a natural deodorizer – how about that for a little eco-friendly solution to repugnant odors!
It is important to remember that each individual has a unique body profile, and this herbal Tea will not benefit everyone in the exact same manner.  The benefits that I listed below are likely to occur for a large portion of the population.  I have included 10 of the main benefits below, and you can read more details on my related post, Spearmint Tea Benefits.
Improved Digestion

– spearmint tea has been consumed prior to meals for centuries to help aid digestion and improve appetite. It is still consumed to help enhance the entire experience of meals. Consuming this tea also reduces bloating, cramping, constipation and IBS. The improved digestion can also result in weight loss.

Balanced Hormones

– this herbal tea can balance hormones and prevent unwanted metabolic side effects.

Clearer Skin

– as stated above, drinking spearmint tea can help balance hormones which can treat and prevent acne. This leads to healthier skin.

Enhanced Memory

– this herbal tea may help some individuals with memory.

Stress and Anxiety

– spearmint has commonly been consumed to promote relaxation and reduce stress and anxiety.
Antioxidant Compounds – similar to other herbal teas, this herbal tea contains powerful antioxidants that help eliminate free radicals. This benefits overall health.
Reduced Inflammation – consuming spearmint herbal tea has anti-inflammatory properties that can reduce swollen joints and improve arthritis.

Anti-Bacterial

– spearmint has anti-bacterial properties that can even help fight resistant pathogens.

Antihistamine

– the flavonoid compounds contained in spearmint tea helps battle allergies and clear clogged nasal passages.

Heart Health

– spearmint promotes heart health with iron and potassium. It is also regarded as a natural stress reliever.
Spearmint Tea Flavor
Spearmint tea has a famous flavor and aroma that you are probably already familiar with.  For those of you that have never tried spearmint, it has a smooth minty taste and smell. 
The mint flavor is not as powerful as its relative, the peppermint. This herbal tea has a similar taste to many mint toothpastes, but the tea is much more subdued flavor profile.  The rich flavor and aroma have led to spearmint's many culinary uses.
Spearmint Recipe

Spearmint has a long history of culinary uses, and it has an unlimited potential to be combined with other natural ingredients to make a delicious herbal tea.  Many of the other plants and herbs mentioned on this site can also be pared with spearmint. 
I highly recommend adding some spearmint leaves to other recipes that I have posted.  I have included a delicious spearmint herbal tea recipe below.  Feel free to edit or revise these ingredients to fit your personal taste preferences.
For additional methods for making this wonderful tea, check out my Spearmint Tea Free Recipes post.
Moroccan Spearmint Tea
Moroccan Spearmint Tea, or simply Moroccan Mint Tea, is an extremely popular blend of both herbal mint and traditional green tea. I usually avoid including traditional tea in my recipes, but this combination is especially popular and delicious. My Spearmint Recipes post has other options that do not include traditional tea, if you would like to avoid consuming caffeine.
Ingredients (2 servings):
2 Tsp Loose Spearmint Leaves, Crushed (see my Top Loose Spearmint List)
2 Teaspoons Loose Green Tea Leaves, Crushed
2.5 Cups of Water
1 tablespoon of Sugar (or to taste)
Instructions:
Pour Water (2.5 Cups) in your herbal teapot. Bring to a boil
Reduce heat and add the the crushed Spearmint Leaves (2 Teaspoons), crushed Green Tea Leaves (2 Teaspoons), and Sugar (1 Tablespoon) to the infuser section of your teapot.
Gently stir the liquid section of your teapot and steep on low heat for 10 minutes.
Remove teapot from heat and turn off range. Allow to cool for 2-3 minutes.
Pour tea into your desired teacup. If you don't have an herbal teapot with an infuser, you should pour through a strainer to remove plant pieces. Add additional sugar to taste, if desired.
Spearmint Tea Bags
I always recommend consuming loose leaf tea, but I realize that many readers do not have the time to complete loose leaf recipes. For these individuals, there are some delicious Tea Bags. I have included my favorite spearmint bags and my favorite blended spearmint bags. The blended tea bags include additional ingredients.
Spearmint Herbal Tea Bags
(Commissions Earned)
Davidson's is widely regarded as a solid company that sells quality tea bags at a reasonable price. This container of straight spearmint herbal tea is reasonably priced for 100 tea bags. If you are new to mint flavored tea, and you have limited time, this is a great option!
Spearmint Blended Tea Bags (Spearmint & Peppermint)
(Commissions Earned)
I enjoy this spearmint blend with peppermint more than I enjoy the plain tea that was listed above. These two related herbs blend nicely and create a delicious and fresh tea sipping experience. With a current price for 120 bags, you should definitely give it a try!
Side Effects
Spearmint Tea is deemed to be generally safe and provides little risk for a majority of the population. This is especially true if it is consumed at reasonable/moderate amounts. These side effects are rare, and many will only occur if an extremely large amount of tea is consumed. Remember to speak with a healthcare professional prior to consuming herbal teas that may interact with your prescription medications or medical conditions.
Individuals with Kidney Disease

– Large amounts of spearmint may have a negative impact on individuals with kidney disease.

Individuals with Liver Disease

– Consuming large amounts of spearmint may have a negative impact for individuals with liver disorders.

Breastfeeding Mothers

– It is generally not a good idea for breastfeeding mothers to consume herbal tea unless it is cleared by a doctor. The impact of spearmint on breast milk has not been studied extensively.

Pregnancy

– Similar to breastfeeding, do not consume spearmint herbal tea if you are pregnant unless you have been otherwise directed by your doctor. The effects of spearmint on pregnant women has not been thoroughly tested.
Make sure to contact your healthcare provider if you are concerned about any of these side effects, or if you are worried about how this tea will affect you.
CONCLUSION

I hope that this post has helped you learn a bit more about Spearmint Tea. This is yet another wonderful herbal tea that has experienced a recent surge in popularity. Spearmint does deserve all of the attention that it has gotten. It is definitely worth giving this delicious herbal tea a try. If you have any questions regarding this herbal tea, please utilize the Comment section at the bottom of this page or send me a message.
Comments
Do you regularly consume this herbal Tea?  What do you like/dislike about it?  Perhaps you have tried one of the recipes that we have provided above and want to share your story with us? Maybe you have even added your own unique spin and want to share it with the group! Please share your thoughts with the Herbal Tea Hour Community and help it continue growth!!