SPEARMINT TEA ACNE: INTRO
If you are reading this post, chances are that you've experienced oily skin or blemishes at some point in your life. I learned about Spearmint Tea Acne benefits and immediately knew that I should share it with this community. Spearmint tea is a delicious herbal tea that is famous for its minty taste and refreshing aroma. It uses spearmint leaves as the primary ingredient, and they are packed with nutrients. The active compounds cause health benefits including Spearmint Tea Acne reduction and improved skin health. The benefits have helped this tea spread rapidly, and it is very popular in the United States. Learn all about Spearmint Tea Acne treatment and prevention on this fun post.
Before Consuming Spearmint Tea for Acne
First, as an Amazon Associate, I earn from qualifying purchases.
I always suggest speaking with your doctor before drinking any type of herbal tea, and this includes consuming spearmint tea to improve skin. Spearmint tea is considered safe for a majority of the population, but consuming in extremely high amounts may result in negative side effects. Spearmint tea may affect hormone levels, and all herbal teas may interact with prescription medications. Your personal healthcare provider can help you assess whether drinking spearmint tea is safe for you.
SPEARMINT TEA ACNE: GUIDE
Please note: This post contains affiliate links. An affiliate link means that we may earn advertising/referral fees if you make a purchase through our links.
I completed hours of research to analyze the scientific studies related to Spearmint Tea Acne treatment. I summarized the information and included it in this guide. It includes links to the studies that are relevant to this topic. I've broken down this Spearmint Tea Acne Guide into several different categories. These categories will help you learn about all of the important aspects related to spearmint tea skin health. I even include one of my favorite brands of spearmint tea towards the bottom of this Guide.
What is Spearmint Tea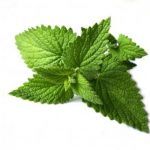 Spearmint tea is a delicious herbal tea that is made with the leaves of the spearmint plant, Mentha spicata. It is a member of the Mint herbal tea family, which also includes peppermint tea. The spearmint plant is native to the Mediterranean region, but is cultivated all over the world.
How Spearmint Tea Acne Treatment Works
Spearmint tea is classified as an anti-androgen, which means that it blocks the effects of male hormones (androgens) in humans. A certain percentage of the population suffers from unstable or high levels of the most common male hormone, testosterone. This condition causes negative effects for both sexes, but it is especially troublesome for women. The health issues for women include PCOS, excessive body hair (hirsutism), and acne.
A credible scientific study stated spearmint tea's active anti-androgen compounds "reduce the level of free testosterone in the blood." A separate study found that consuming spearmint tea on a regular basis has caused a significant decrease in self-reported skin issues for women.
The scientific research supporting these statements can be found on the National Institute of Health website, An Update on Plant Derived Anti-Androgens.
How to Get Spearmint Tea Acne Benefits
The best way to experience the Spearmint Tea Acne benefits is to consume the herbal tea regularly in reasonable amounts. Women with severe acne may find it necessary to drink the tea multiple times per day, but usually once per day will suffice. It is not necessary to brew an entire pot of spearmint tea for yourself; most studies found that consuming one cup of tea was effective. It may take several days before you start to see benefits, so be sure to keep consuming it regularly.
It is also important to choose the correct spearmint tea, and I include the information below to help you choose the best.
Spearmint Tea Acne: Top Brand
(Commissions Earned)
Choosing quality ingredients is the first step to attaining Spearmint Tea Acne benefits. If you've read any of my other posts, you probably already know that I recommend loose leaf tea. Loose leaf tea contains more nutrients and is more fresh than tea bags.
My favorite spearmint tea is currently Wild Tea #19 by Wild Foods. Wild Foods is a reliable brand that sells quality herbal tea at a reasonable price. Wild Tea #19 contains organic loose spearmint leaves that are perfect for Spearmint Tea Acne treatment. These leaves are very fresh and smell amazing. I enjoy smelling the minty freshness prior to opening the bag.
If you would like to see other great brands that I recommend, you should read my Best Spearmint Tea Guide. It includes loose leaf spearmint and tea bags.
Learn How to Make Spearmint Tea
Spearmint tea is very flexible, and there are several ways to enjoy this herbal tea. I enjoy consuming loose leaf spearmint tea, like the brand mentioned above. Making loose spearmint tea is a fairly simple process, and it can be consumed either hot or cold. Check out my free spearmint tea recipes on my related post, Learn How to Make Spearmint Tea.
SPEARMINT TEA ACNE: CONCLUSION
I hope that this post has helped you discover how Spearmint Tea Acne benefits can help improve overall skin health. Clear and healthy skin helps build confidence. If you have any questions regarding Spearmint Tea Acne, please send me a message or post a comment at the bottom of this post. I enjoy communicating with all of my readers, and it helps motivate me to keep growing this valuable resource.
If you are looking for a great post to read next, you should consider my Spearmint Iced Tea Recipe. Its refreshing taste is perfect for summer!
Spearmint Tea Acne: Comments
Have you experienced Spearmint Tea Acne benefits? How did it work? Please share your knowledge with the HTH community by posting a comment below.
HerbalTeaHour.com is an herbal tea community that truly values transparency and disclosures. We want to be very clear about one thing. In addition to being herbal tea enthusiasts, we do participate in the Amazon Affiliate program. As an Amazon Associate we earn from qualifying purchases.