ICED SPEARMINT TEA RECIPE: INTRO
Spearmint tea is a refreshing herbal tea that is very popular during the hot summer months, but it can be difficult to find an Iced Spearmint Tea Recipe online. It utilizes loose spearmint leaves to create the unique flavor and pleasant aroma that is associated with this tea. I decided to create this Iced Spearmint Tea Recipe to help the Herbal Tea Time Readers brew a delicious cup of minty tea.
Learn more Spearmint Tea Facts on my separate post.
ICED SPEARMINT TEA RECIPE: GUIDE
First, as an Amazon Associate, I earn from qualifying purchases.
This is an Iced Spearmint Tea Recipe that takes you through each step of making this refreshing herbal tea. I decided to begin this guide by including one of my favorite brands of spearmint leaves that can be used as the primary ingredient in this recipe. If you are new to making iced spearmint tea, it is a good idea to follow this simple recipe. Experienced spearmint tea drinkers can read it and consider editing, if desired. I personally love this recipe, but I always encourage the Herbal Tea Time readers to customize recipes to help fit their personal taste preferences. The flavors that you enjoy are unique, and experimenting can help you create the perfect spearmint iced tea for your taste buds.
Choosing the Best Iced Spearmint Tea Leaves
Before you start the Iced Spearmint Tea Recipe, it is a good idea to purchase the main ingredient. Selecting and purchasing high quality spearmint tea leaves is imperative.  All of my spearmint tea guides (including this Iced Spearmint Tea Recipe) include loose spearmint leaves as the primary ingredient.  Loose leaf tea is healthier and more fresh than tea bags.  I included this product description to make sure you get started on the right track.  Wild Foods is a great tea brand that provides top notch loose teas.  Their loose spearmint leaves (Spearmint Serene) is a perfect fit for this Iced Spearmint Tea Recipe.  Wild Foods spearmint leaves are fresh and have a very pleasant smell.  I can usually smell the freshness before I open the bag.
(Commissions Earned)
Check out the Best Spearmint Tea Leaves on my related post.
ICED SPEARMINT TEA RECIPE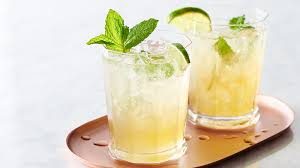 Please note: This post contains affiliate links. An affiliate link means that we may earn advertising/referral fees if you make a purchase through our links.
This Iced Spearmint Tea Recipe will create a nutritious herbal tea, and it includes all of the Benefits of Spearmint Tea. It doesn't include caffeine like traditional teas. I refer to this recipe as my Iced Double Mint, but you can call it anything you please. One of the reasons that my herbal tea friends enjoy this tea (other than the refreshing taste) is the ability to change the amounts of the ingredients. It is very flexible, and it can also be served hot.
Note: Before getting started on this recipe, you should purchase spearmint leaves (included above) and peppermint leaves.  You can click below to see my favorite peppermint leaves.   I recommend crushing the amount of leaves listed below when you are ready to get started.  You can use a mortar bowl or crush them by hand in a ziplock bag.
Ingredients (2 Servings)
~5-7 Loose Spearmint Leaves, Crushed
~5-7 Loose Peppermint Leaves, Crushed
2.5 Cups of Water
1 teaspoon of Honey
1 tablespoon of Sugar (or to taste)
2 Slices of Lemon (optional)
Instructions
Pour Water (2.5 Cups) in your herbal teapot and bring to a boil
Reduce heat and add the crushed Spearmint & Peppermint Leaves, Honey (1 Teaspoon), and Sugar (1 Tablespoon) to the infuser section of your teapot.
Gently stir the liquid section of your teapot and steep on low heat for 5-7 minutes.
Remove teapot from heat and turn off range. Allow to cool for a 10 minutes.
Pour tea into a pitcher or large bowl and place in the fridge.
Allow to cool for 1 hour (at least 30 minutes if rushed)
Fill desired serving glasses halfway with ice. Remove tea from fridge and pour into serving glasses. Add slice of lemon to the rim of the glass.
Enjoy the cool refreshing taste of Iced Spearmint Tea!
ICED SPEARMINT TEA RECIPE: CONCLUSION
I hope that you have enjoyed this Iced Spearmint Tea Recipe. It is a simple way to make a delicious and refreshing herbal tea. I personally enjoy consuming this tea during the hot summer months, and it is perfect for summer parties. You can even improve the appearance by adding fresh mint as a garnishment. I suggest customizing this Iced Spearmint Tea Recipe to fit your particular taste and flavor preferences. If you have any questions, feel free to contact me or post a comment below.
Discover How to Make Hot Spearmint Tea on my related post.
Iced Spearmint Tea Recipe: Comments
Did you enjoy this Iced Spearmint Tea Recipe? Do you have a favorite recipe, or a method for improving this one? Please share your ideas and experiences in the Comments section below. I appreciate all of the comments that we receive, and I personally respond to each one. All of you help make this community a very valuable resource!
HerbalTeaHour.com is an herbal tea community that truly values transparency and disclosures. We want to be very clear about one thing. In addition to being herbal tea enthusiasts, we do participate in the Amazon Affiliate program. As an Amazon Associate we earn from qualifying purchases.