HIBISCUS FLOWER TEA: INTRO
Hibiscus Flower Tea is a popular herbal tea that stays true to its name by utilizing a portion of the hibiscus flower, Hibiscus sabdariffa, as the primary ingredient. Many people consume this tea regularly to obtain the powerful hibiscus benefits. I have dedicated this page to detailing the Top 5 Reasons to Drink this awesome herbal tea!
If you are lacking basic knowledge related to this unique tea, I recommend reading my Ultimate Guide for Hibiscus Tea.
Before Consuming Hibiscus Flower Tea
First, as an Amazon Associate, I earn from qualifying purchases.
I always suggest that you should speak with your primary healthcare provider prior to consuming any form of herbal tea, including Hibiscus Flower Tea. This tea is generally regarded as being fairly safe, but there are some possible side effects for drinking hibiscus tea. This is especially true if it is combined with certain prescription medications. Your doctor can help you decide whether you should proceed with consuming any specific form of herbal tea.
HIBISCUS FLOWER TEA: TOP 5 REASONS TO CONSUME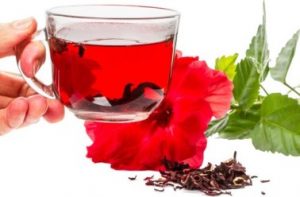 Please note: This post contains affiliate links. An affiliate link means that we may earn advertising/referral fees if you make a purchase through our links.
This herbal tea is a smooth herbal tea that has increased recently in popularity. The growth of consumption and spread of this specific tea can partially be attributed to all of the benefits. There are several strong reasons to drink hibiscus tea, and this portion of my post details the Top 5.
1. Hibiscus Flower Tea Weight Loss
Weight loss is affecting more and more Americans each year, and obese individuals have a much higher risk of several dangerous diseases. Hibiscus Flower Tea has been studied extensively, and scientists have recorded the ability of hibiscus to help lose weight. It helps individuals lose weight in several different ways, including by improving digestion. I recommend consuming this herbal tea regularly and to replace sugary drinks with this healthy tea. You can read my extensive post dedicated to explaining how Drinking Hibiscus Tea Helps Lose Weight.
2. Lowers Blood Pressure
Studies have shown that Hibiscus Flower Tea actually lowers blood pressure. This can be important for many reasons. High blood pressure can lead to a greater risk of heart attack or stroke. You can read my related article explaining How Hibiscus Tea Lowers Blood Pressure.
3. Relaxation and Stress Reduction of Hibiscus Flower Tea
I know many HTH readers that consume this tea to help relax and reduce stress after chaotic days. This can help improve sleep and boost overall health.
4. Decreases Cholesterol
Research has helped document that consuming Hibiscus reduces the level of LDL (aka bad cholesterol) in some individuals. It also reduced triglycerides. The patients that were helped the most were the most unhealthy going into the study. Another recent study documented a group with metabolic syndrome who took hibiscus powder increased their good cholesterol.
5. Hibiscus Flower Tea is a Diuretic
Consuming this herbal tea helps you pee!  Many people confuse diuretics with laxatives, but diuretics help the body process liquids rather than solid waste.  This tea improves health by helping the human body eliminate waste through urine.  Just make sure that you don't drink a large amount before you go to bed!
Buy the Best Hibiscus Tea:
(Commissions Earned)
CONCLUSION
I hope that this List of the Top 5 Reasons to Drink Hibiscus Tea has helped you learn more about the powers of this wonderful tea. You can use this information to decide whether consuming hibiscus tea is the right choice for you. I personally have added this tea to my summer and winter rotation, and I am so glad that I did. If you have any questions regarding this tea, you can send me a message or post in the Comments section at the bottom of this page. Many people have similar questions, and you can help this website grow as a valuable resource.
Comments
Do you regularly consume Hibiscus Flower Tea? What do you enjoy about it? Please share your experiences with the HTH Community to help make it grow. I personally read all comments, and I really appreciate it!
HerbalTeaHour.com is an herbal tea community that truly values transparency and disclosures. We want to be very clear about one thing. In addition to being herbal tea enthusiasts, we do participate in the Amazon Affiliate program. As an Amazon Associate we earn from qualifying purchases.