HARVEST DANDELION ROOTS: INTRO
I recently decided to Harvest Dandelion Roots, and I created this post to share my experience with others. I used my dandelion roots to make Dandelion Coffee, a form of dandelion root tea. Many herbal tea connoisseurs are already familiar with the Benefits of Dandelion Root Tea. The diuretic effects of dandelion root tea can help weight loss and improves overall health. Luckily, spring is right around the corner and dandelions are already starting to sprout. You can Harvest Dandelion Roots and improve the appearance of your yard at the same time.
First, as an Amazon Associate, I earn from qualifying purchases.
I recommend consulting with your primary care provider prior to consuming dandelion roots. You shouldn't Harvest Dandelion Roots if you have severe allergies; these plants can cause allergic reactions.
HOW TO HARVEST DANDELION ROOTS
Please note: This post contains affiliate links. An affiliate link means that we may earn advertising/referral fees if you make a purchase through our links.
This is a simple guide to help you take advantage of the widespread footprint of dandelions. These plants are found all over the world and are fairly easy to identify. Here is a brief summary with details below:
Choose Proper Area
Identify and Select a Healthy Plant
Carefully Dig Up Entire Dandelion Plant
Remove Roots
Wash and Dry
Chop into Small Pieces and Store
Find the Area to Harvest Dandelion Roots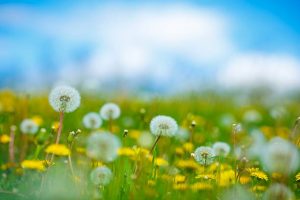 Many people take this step for granted, but it is very important. You need to select an area that has not been treated with any chemicals. Consuming chemicals such as pesticides can be very unhealthy and dangerous. You also want to avoid areas that are likely to have animal urine and fecal matter. You don't want your tea to taste like racoon poop!
Identify and Select the Dandelion Plant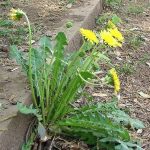 Find large healthy plants with yellow flowers. Make sure that the plants do not have animal waste nearby. Avoid plants that have brown leaves or are droopy. You should be able to tell which plants are healthy.
Carefully Dig Up
Use a garden trowel to carefully dig up the plant. Start digging a few inches away from the plant to avoid damaging the roots. Go slow and pay attention.
Remove Roots
You can either use your hands to bend and pull the roots from the rest of the plant, or you can use a knife/scissors. I personally prefer using a pair of kitchen scissors.
Rinse and Dry
Now it is time to wash the roots. I usually just rinse them thoroughly using a medium colander. You can remove as much dirt and debris as possible, but they do not need to be perfectly spotless. After they have been thoroughly rinsed, you should allow them to dry for 1-2 hours.
Chop into Pieces and Store
Chop the roots into small pieces for use in dandelion root tea. I like to use a sharp knife and cutting board, but remember to be very careful. You can use the pieces immediately, or you can store them for later use. I personally use a vacuum sealer and store mine in the refrigerator. I consume the dandelion roots within 2 weeks to be safe, but they will probably stay fresh much longer than that. Proper storage is key.
Now that you have learned how to Harvest Dandelion Roots, you can discover How to Roast Dandelion Roots on my previous post.
---
Harvest Dandelion Roots: Alternatives
I totally understand why so many people choose to Harvest Dandelion Roots. The whole practice of picking wild plants gives me a sense of primal satisfaction. It makes me feel bonded with nature, and it is hard to do that in today's world. For those of you that cannot find a safe area to Harvest Dandelion Roots, there is a great alternative. I recommend purchasing loose dandelion roots online. There are several different options, and most are relatively cheap. I have included my favorite brand of loose dandelion roots below.
Starwest Botanicals Roasted Dandelion Roots
(Commissions Earned)
This is a one pound package of my favorite brand of dandelion roots. These dandelion roots have been roasted, which gives them a bolder flavor and darker appearance. Starwest Botanicals also sells a one pound package of raw dandelion roots that have not been roasted. All of the dandelion roots are organic and sourced from Croatia.
You can read about all of my favorite brands on my related post, Best Dandelion Roots
---
HARVEST DANDELION ROOTS: CONCLUSION
I hope that this post has motivated you to Harvest Dandelion Roots. You can use these roots to make a delicious cup of Dandelion Coffee. Remember to be very careful when you are selecting which areas to harvest. It can be very dangerous if you ingest roots from areas that have been treated with chemicals. If you have any questions, please feel free to contact me or post a comment below.
Harvest Dandelion Roots: Comments
Have you decided to Harvest Dandelion Roots? Do you have any tips? Please share your knowledge with the HTH Community by posting a comment below. Thank you so much for helping this resource grow so rapidly!
HerbalTeaHour.com is an herbal tea community that truly values transparency and disclosures. We want to be very clear about one thing. In addition to being herbal tea enthusiasts, we do participate in the Amazon Affiliate program. As an Amazon Associate we earn from qualifying purchases.